Buy your clinical waste bags from Only Bags and save. We manufacture biohazard clinical waste bags for the medical industry.
Our clinical waste bags (biohazard waste disposal bags) are sold in 200-piece boxes. Each waste bag is bright yellow with a biohazard symbol printed on it.
Our clinical waste bags are manufactured to the highest possible standard. Only Bags is a major supplier of clinical waste bags to the medical industry and supply our bags to doctors, clinical waste collection facilities and hospitals.
Our Biohazard Clinical Waste Bag is made of virgin HDPE and LDPE material for maximum durability and strength. The bags are yellow Clearly labelled for easy identification and warning black printing on both sides of the bag "Clinical Waste" and with a biohazard logo. The 240 LT size it fits all large Waste Bins suitable for use in various medical environments eg hospitals, dental and pathology rooms.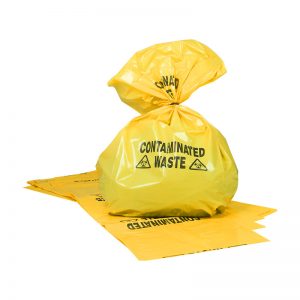 Heavy duty waste or contaminated plastic bags
110cm wide x 155cm high
Produced for maximum strength with mixture of low linear density and high density polyethylene.
20 microns
Hi-visibility plastic bag
Marked with "contaminated waste"
Box of  200 pcs
240L bag
Lowest Prices
Price: $108
SPECIAL OFFER buy now and get a 25% DISCOUNT.
We can customize any size and  any printing required, we have full production capacity in our factory in China with a 6 – 8 week turnaround.
Returns are only available for faulty stock product and are at the discretion of Only Bags Australia.
No Change of mind accepted. Restocking charges may apply.